Girard Sharp is a law firm headquartered in San Francisco, California that represents plaintiffs across the United States in class and collective actions, multidistrict litigation, and arbitrations. Our clients range from individual consumers and small businesses to Fortune 100 corporations and public retirement systems. Our team of experienced attorneys represents plaintiffs in a diverse set of fields, including antitrust, securities and financial fraud, product defects, digital privacy and data security, sexual abuse and women's advocacy, consumer protection, and whistleblower laws.
Since our founding in 1995, we have recovered billions in settlements and judgments, leveling the playing field for our clients, and consistently delivering results in challenging cases throughout California and across the country, including:
$14,000,000
Product Liability Verdict
The jury awarded more than $14 million in damages to three women and a couple whose eggs and embryos were damaged or destroyed in a 2018 cryopreservation tank failure. The three women were each awarded between $2 million and $3 million, and the couple was awarded $7.2 million. Girard Sharp represented more than 80 families who lost reproductive material in the tank failure.
$215,000,000
Sexual Abuse Settlement
Sexual abuse survivors received $215 million in recoveries in a case against the University of Southern California and campus gynecologist Dr. George Tyndall on behalf of women who were sexually abused by Tyndall during his long tenure at USC. The settlement also required that USC recognize the harm done to all of Tyndall's patients, as well as adopt and implement procedures for identification, prevention and reporting of sexual and racial misconduct.
$54,500,000
Business Litigation Settlement
Girard Sharp served as lead counsel in a consolidated class action brought on behalf of investors against a major bank for furthering a Ponzi scheme. After several years of litigation in bankruptcy court and district court, the parties reached a $54.5 million settlement approved by the court in December 2021.
$73,000,000
Sexual Abuse Settlement
Girard Sharp lawyers filed a class-action lawsuit against UCLA on behalf of women treated by UCLA gynecologist Dr. James Heaps. Heaps was charged with sexual battery and exploitation of patients while working as a staff gynecologist at UCLA — a position he held for almost 30 years. The UC Regents agreed to resolve the claims for $73 million and injunctive relief measures, and the court granted final approval of the settlement.
$30,000,000
Antitrust Settlement
Girard Sharp served as co-lead counsel in this indirect-purchaser antitrust class action alleging suppression of competition in the market for generic drugs. The firm helped secure a $30 million settlement, which is pending final approval, for the certified end-payer class. 
$150,000,000
Business Litigation Recovery
The firm helped secure a $150 million recovery from Raymond James and additional recoveries from other parties in the largest EB-5 fraud in the history of the United States.
Confidential
Product Liability Settlement
In 2020, the court approved a settlement for LG refrigerator consumers that made each class member eligible for several thousand dollars in recovery; those without documentation could recover up to $450 each. The class members also each received a five-year extended warranty covering the full cost of repairs for cooling failures. The settlement provided relief to more than a million-and-a-half American consumers.
$90,000,000
Class Action Settlement
The court in 2021 approved a $90 million settlement with USAA Life Insurance Co. Class members will receive distribution checks by mail without the need to make claims. The average recovery is more than $500 per class member.  
Confidential
Investments Settlement
The case proceeded in Circuit Court for Baltimore, Maryland, against the CEO and Chairman and the REIT's directors. After deposing whistleblowers, Girard Sharp coordinated negotiations between counsel for various stakeholders, including plaintiffs in a separate suit in federal court in Nevada, and a potential acquirer, to reach a settlement that provides cash payments to the stockholders, an injection of new capital into the company and forfeiture of the CEO's right to receive additional shares.
$17,850,000
Business Litigation Settlement
On December 10, 2019, the Honorable Manish S. Shah of the Northern District of Illinois granted final approval of a settlement that established a fund of $17,850,000 for class members.
$600,000,000+
Class Action Recovery
Girard Sharp serves on the Executive Committee in this price-fixing class action on behalf of direct purchasers of aluminum, tantalum and film capacitors. Plaintiffs allege that the capacitor manufacturers, faced with declining demand, agreed to raise, fix, and stabilize capacitor prices. The litigation has generated recoveries to date of more than $600 million. 
$60,000,000
Class Action Settlement
Girard Sharp helped plaintiffs secure a $60 million settlement for the class, which will supplement a $920 million settlement with the U.S. Department of Justice.
Our Reputation For Excellence
Distinguished as a Tier 1 law firm for plaintiffs' mass tort and class action litigation, and a "Best Law Firm" since 2013.
US. News and World Report
Practice Group of the Year
Recognized by Law360 for the Practice Group of the Year in Product Liability litigation.
Awarded "Top Plaintiff Verdicts: Impact" award and "Top Boutiques in California" award.
In 2023, the National Law Journal nominated Girard Sharp for the 2023 Elite Trial Lawyers award in six different categories.
Named by The National Law Journal to its elite "Plaintiffs' Hot List", a selection of U.S. plaintiffs' firms recognized for wins in high-profile cases.
Awarded "Top Plaintiff Verdicts: Impact" award and "Top Boutiques in California" award.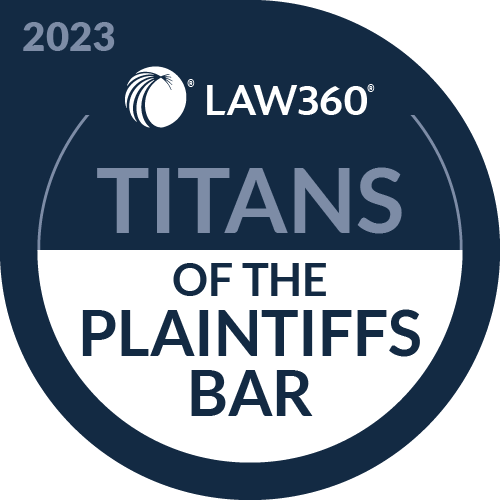 _________________
Dena Sharp was named a "Titan of the Plaintiffs Bar" by Law360 in 2023.

_________________
Partners Daniel Girard, Dena Sharp, and Jordan Elias have been named to the list of Best Lawyers in America.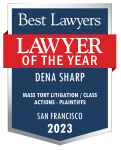 _________________
Best Lawyers also designated Dena Sharp as the 2023 "Lawyers of the Year" in San Francisco for class action litigation, and Daniel Girard as the 2013 "Lawyer of the Year."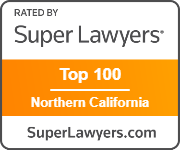 _________________
Daniel Girard and Dena Sharp have been recognized as among the "Top 100 Super Lawyers" in Northern California, and Dena Sharp as one of the Top 50 Women Attorneys in Northern California.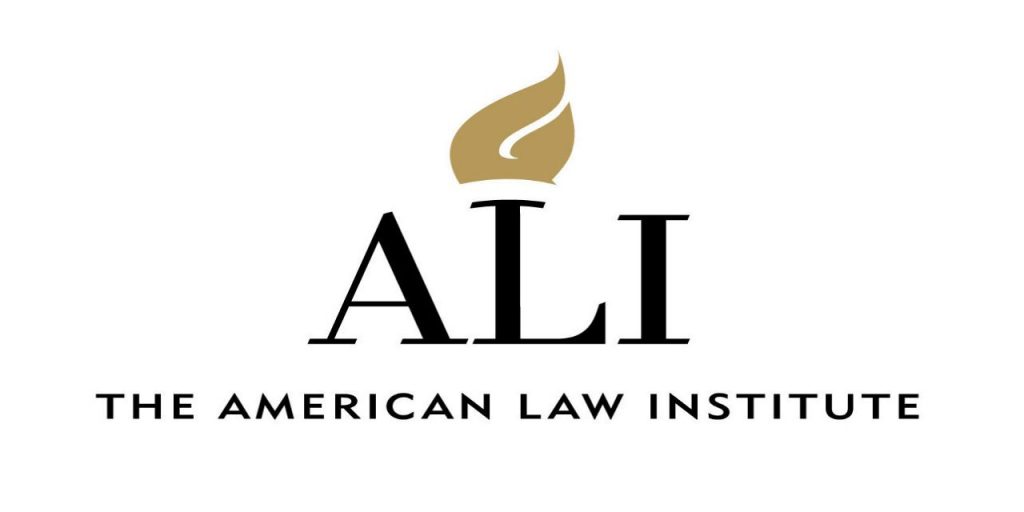 _________________
Partners Daniel Girard, Dena Sharp, and Jordan Elias are elected members of the American Law Institute, with Daniel Girard serving as a member of the Council.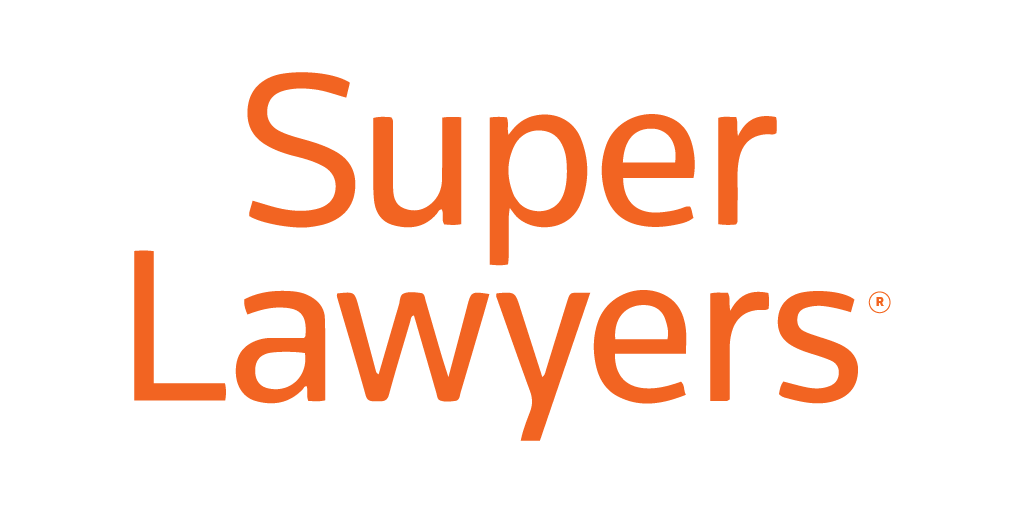 _________________
Nine of the firm's attorneys have been recognized as Northern California Super Lawyers and Rising Stars.
Girard Sharp is "highly experienced in complex class litigation."
"Class Counsel in this case possess great competence and experience, and the result reached in this case perfectly exemplifies their abilities. The Court has been extremely impressed with the conduct, skill, and accomplishment of Class Counsel throughout this litigation."
"I am very satisfied with the outcome …. It's a wonderful feeling to have the trust and confidence in our legal system and to have the full support of you and your law firm."
The attorneys at Girard Sharp are "extremely qualified and able to represent the certified class."
"It is clear from dedication, devotion, professionalism, and in the court's view, efficiency … there is no question … of the quality of representation."
"Your communication was fantastic. You made sure I was fully aware of what was going on and how the proceedings were going."
Girard Sharp "conferred an impressive monetary benefit."
"Nice to know that there is still some help out in the world, when there are so many evils."
We are dedicated to making a meaningful difference in the communities where we work and live. Girard Sharp lawyers are active as sponsors, volunteers, and board members for organizations and institutions that protect and advance the interests of vulnerable populations. Our lawyers and staff make a personal impact through a broad range of professional organizations and groups whose efforts further the public good, including:
American Antitrust Institute
American Association for Justice
American Bar Association
American Bar Foundation
American Law Institute
Asian American Bar Association
Bay Area Legal Aid
California Rural Legal Assistance
Consumer Attorneys of California
Consumer Attorneys of Los Angeles
Duke Law Judicial Center
East Bay Community Law Center
Electronic Discovery Institute
Equal Rights Advocates
Federal Bar Association
Federal Bar Association, Northern District of California Chapter
Federal Judicial Center
Impact Fund
Institute for the Advancement of the American Legal System
Judicature  magazine
National Association of Consumer Advocates
Northern California International Arbitration Club
Pound Civil Justice Institute
Public Citizen
Public Justice
San Francisco Bar Association
San Francisco Trial Lawyers Association
Sedona Conference
United States Judicial Conference Standing Committee on Rules of Practice and Procedure
Women En Mass
Women Lawyers Association of Los Angeles
Girard Sharp is committed to a culture of meaningful inclusion. We believe that cultivating a wide spectrum of viewpoints is essential to our growth and success, and to our service of a diverse clientele.
We put that philosophy into practice by focusing our recruiting efforts on discovering talented people with varied backgrounds and work experiences, and we seek to offer employees at every level the mentoring, guidance, and career development opportunities they need to succeed. We recruit, retain, and promote lawyers and legal professionals without regard to race, color, religion, national origin, sex, gender preference, age, or disability.
Throughout their careers, our lawyers are encouraged to develop and strengthen relationships and awareness of our work by contributing to professional organizations and participating in legal conferences. Outside the firm, our partners and associates are dedicated volunteers, acting as mentors and guides to those traditionally underrepresented in the legal profession.
At Girard Sharp, our culture is rooted in collaboration, innovation, and the highest standards of integrity and professional excellence. We offer the flexibility and efficiency of a smaller firm, pathways for professional development, and the opportunity to do groundbreaking work on high-profile plaintiff litigation. Teamwork is at the heart of our values, and we believe that each of us has a role to play in even our most complex and challenging cases. Our lawyers invest time and care to provide challenges and guidance for each new hire.